How do you take an event like Archangel Summit 2018
and amplify it for maximum inspiration, extreme value and tons of FUN?
By turning it into an Exclusive 2 Day Experience with a high-vibing tribe
of like-minded change-makers, leaders and entrepreneurs…
and that's exactly what we've done!
Avalon Empowerment is honoured and excited to partner with Archangel Summit 2018! This means that on top of an INCREDIBLE line up of Summit Keynote Speakers on Saturday, September 8th, Avalon Empowerment "tribe" ticket holders get to take advantage of an extra FULL DAY of Summit experience on-site at the Metro Toronto Convention Centre with our Vision & Vibe with the Tribe training on Friday, September 7th! As part of the Avalon Empowerment Tribe, you'll also enjoy exclusive opportunities and loads of extras, perks, bonuses and gifts!
DAY 1: Friday, September 7th 2018 – Vision & Vibe with the Tribe
How would you like to kick off your 2018 Archangel Summit experience with a group of talented,
driven, insightful, awesome and power-full people, just like you, who are committed to raising the bar
in their lives and work by consciously raising their vibration?
This is what Avalon Empowerment's Vision and Vibe with the Tribe is all about!
It's about strengthening your relationship to your vision, your dream and your work.
It's about identifying your legend and legacy and making your 'dent' in the Universe!
It's about choosing to show up for yourself while super-charging your goals and going quantum
to get your head and heart in alignment and on the same page!
It's about eliminating anything that doesn't serve your highest potential and moving ahead with purposeful precision!
At Vision and Vibe with the Tribe you will learn and experience:
The critical difference between knowing your "Who" and knowing your "Why"

The true nature of Inspiration and Imagination

How to cultivate the courage to collaborate with creativity

How to tap into (or sharpen) your intuition to recognize guidance and create from your truest and highest self

How to understand and harness the energy of the Visionary, Warrior and Alchemist archetypes

How you can enter and work with the state of Flow

A transcendent Higher Self meditation to meet your "Genius"

Power VS Force: Understanding the Consciousness Scales to get into vibrational alignment with your Vision and Mission

Utilizing Advanced Energy Dynamics to illuminate the Unseen world

Identifying your personal Legend and Legacy

And so much more…
Day 2: Saturday, September 8th 2018 – Archangel Summit 2018
Imagine a world where human beings are empowered to design their lives around their strengths and natural abilities…
Where each of us is able to share our unique gifts with the world and prosper doing it…
Where thousands of mission-driven businesses have achieved their goals and changed the world.
Imagine living a fully optimized life.
Where your mind, body, purpose, and profession are all perfectly aligned…
Where you are able to perform at such a high level that it borders on superhuman.
At Archangel, we believe that everyone is gifted.
That inside all of us are superpowers waiting to be discovered, unleashed, and harnessed for good.
That the way to optimize a business is to optimize the self and to give your team members the tools
and resources they need to do the same.
At Archangel, we help people optimize their strengths and unique superpowers so that they can do
well in business by doing good in the world.
The Summit is our annual gathering of leaders and teams who want to harness the power of their
gifts to change the world by building mission-driven businesses.
Summit Keynote Speakers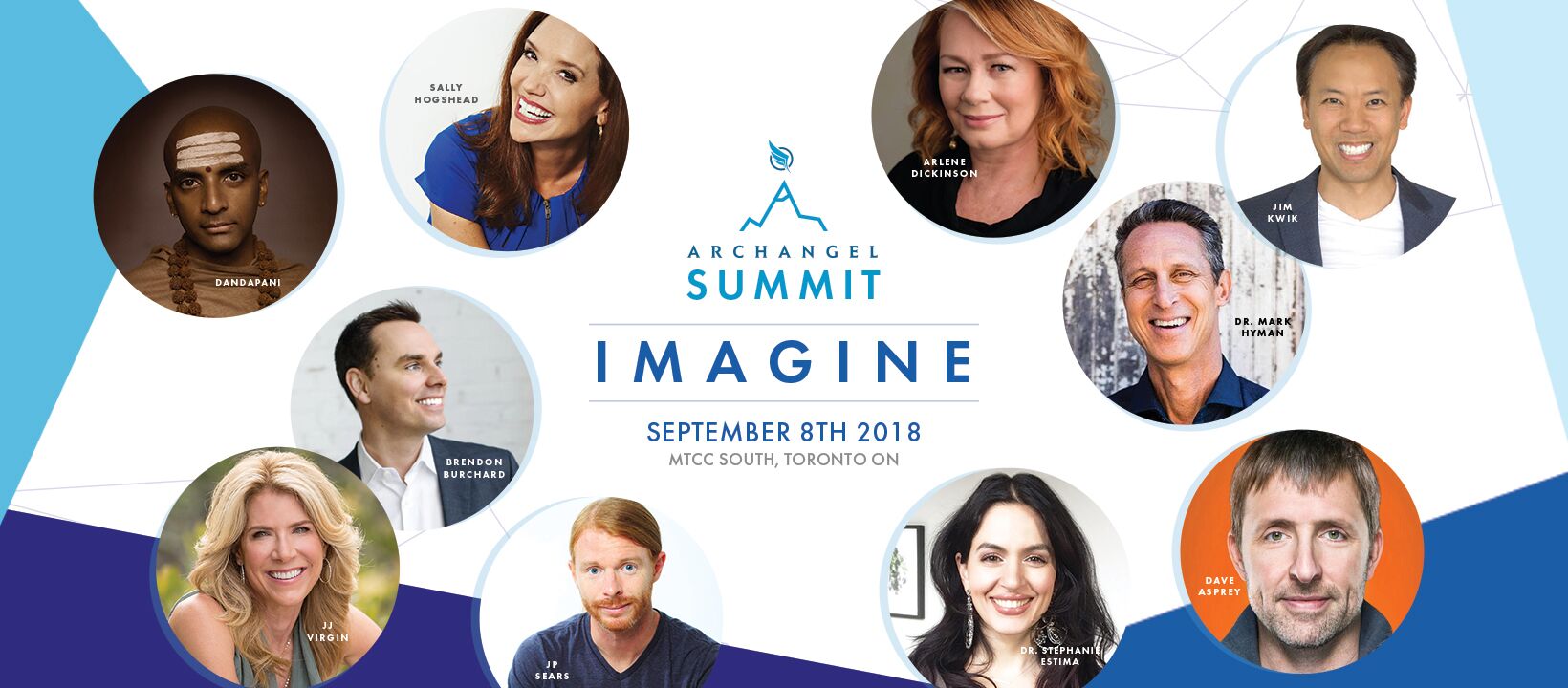 2018 Speakers this year include Arlene Dickinson, Brendon Burchard, JP Sears, Dandapani, JJ Virgin, Dr. Mark Hyman and more!
View Summit Keynote Speaker Bios here
For a taste of what you can expect check out the 2017 Summit Highlights here
Your Exclusive 2 Day Ticket Package Includes:
1 Ticket to Vision and Vibe with the Tribe – Friday, September 7th 2018

1 Angel Ticket To the 2018 Archangel Summit –

Saturday

, September 8th 2018

Complimentary access to the official Archangel Summit Afterparty

Separate "Tribe" Check-In

TRIBE EXCLUSIVE

Reserved Tribe seating in the first rows of the Angel Section

TRIBE EXCLUSIVE

Avalon VIP Angel Gift Bag

TRIBE EXCLUSIVE

Archangel T-Shirt, Journal & Pen

TRIBE EXCLUSIVE

Access to Replays from all presentations and Speakers

One full year of complimentary tuition to

Archangel Academy

– $1200 Value!

TRIBE EXCLUSIVE

Complimentary Webinar with an Archangel Master (topic TBD)

TRIBE EXCLUSIVE

Avalon Tribe Recognition and Photo Opportunity On Stage During the Summit

TRIBE EXCLUSIVE

Meet & Greet and Photo Opportunity with Archangel Founder Giovanni Marsico –

TRIBE EXCLUSIVE

Meet & Greet and Photo Opportunity with YouTube Sensation and author of "How to Be Ultra Spiritual" J.P. Sears –

TRIBE EXCLUSIVE

Reserved seating and complimentary Lunch & Learn on Saturday, September 8th –

TRIBE EXCLUSIVE

And SO much more…

Tribe seating is Limited!
Tickets will be available on a first come, first served basis!
If you're a passionate and driven leader who wants to raise your vibration and your consciousness to create positive change in the world, this program is for you! Register now and take advantage of this amazing exclusive 2 Day Summit experience!
Terms & Conditions
All sales are final. No refunds. You may transfer your ticket to another person with a minimum of 10 days notice. Please inform us in writing of the transfer details by sending an email to info@avalonempowerment.com. Include name, phone number and email address.